As a Personal Finance blogger, I love the diversity of view-points and topics that are around us and some of the content is really great. It helps me understand some of the big trends and make better decisions on my own journey to Financial Independence.
I've selected for you 5 great articles that made me smarter in September.
Of course, the largest event in the Financial Community in September was FinCon '15 held this year in Charlotte, NC, which is the equivalent of the Comic-con for financial geeks. I wasn't there personally but luckily, with the miracle of the Internet, I was able to get a good sense of what happened.
From all the feedback you get about the event, it ranges from amazing to wonderful. EvenStevenMoney even called it Good, Great, Grand, Wonderful and called in sick the following Monday to make sure he wouldn't quit right away.
Maggie's over at the NorthernExpenditure had a 2-part coverage of what's really happening at FinCon based on tweets of the event. Apparently, there have been some cool photos of J.Money's famous haircut going around on Twitter.
During the event, a number of interviews and podcasts were recorded : the power-couple behind 1500days was interviewed live by the Madfientist for his podcast 1500 days – Pulling the Early Retirement trigger. This was very good timing since Mr & Mrs 1500 had just reached their goal from Big Debt to 1,000,000$ in 15 years.
And there were also the 6th Plutus Award. Head over to the list to see the winners for the Best Personal Finance New Blog, Blog of the Year, Lifetime Achievement and more!
Below are some of my favorite articles this month.
1 Being Benjamin Franklin for a Week
End of July, J.Money from BudgetsAreSexy started an experiment to follow the routine of Benjamin Franklin, known to be very efficient. Initially for a week, from 5am to 10pm, he would align himself with Franklin's schedule and take note of the results. This has now been 1 month and the results are powerful and quite inspiring.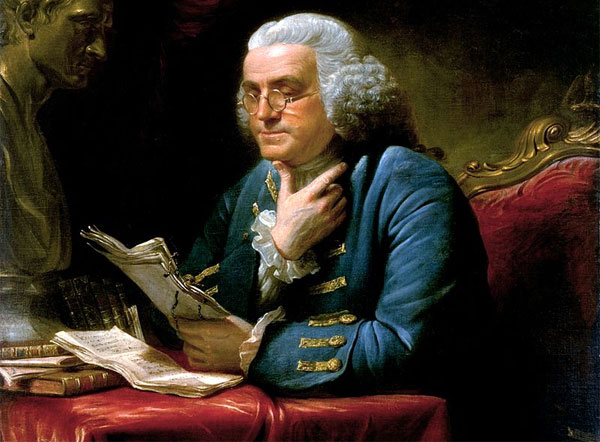 2Everything you Own is a Relationship You're In
"I spent six weeks getting rid of several carloads of possessions, and three days arranging what was left. Now my socks are arranged by color, my apartment is way bigger, and being home feels like a vacation. It works like this: you go through every possession you own, hold it in your hands, and keep it only if it evokes some kind of "joy". I ended up getting rid of hundreds of things"
GoCurryCracker analyzes what would have been the best retirement ever : retiring in 1982. The stock market saw it's longest bull market ever and if you had been invested at the time, the returns were amazing. So great indeed that it would have supported a 9.5% withdrawal rate. So how well off would someone have been were they to have followed the recommended 4% withdrawal rate? Hint: extremely well.
In September, the Federal Reserve was expected to increase its benchmark rate as the unemployment rate is at its lowest in 7 years. But the inflation, at 0.3%, is way below the Fed's target of 2%. But why 2% in the first place? The Economist explains.
5 The Low Hanging Fruits of Frugality
A not so serious look into what would be the very low hanging fruits to live a very frugal life. Or is it? A very refreshing read 🙂
There is so much great content available online and offline, have you read / watched anything interesting this month that you'd like to share?
-Nick